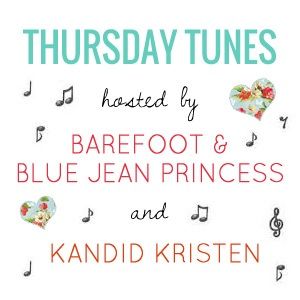 Rules:
Grab our button and please link to me and
Kristen
in your post. You do not have to follow us unless you just want to, in which case we'd love to have you!
Post 1-5 songs you like at the moment, have liked in the past, whatever! You can embed from YouTube or use GrooveShark if thats more your thing. I personally like to watch videos.
That's it. Very simple.
Today I am doing my favorite songs to dance to.
1. Let Me Hold You- Stoney LaRue. Great for a good slow dance.





2. Meet In The Middle- Diamond Rio. This is one of my favorite up tempo songs to dance to. Also, check out this old video. LOVE the hair!






3. Somewhere With You- Kenny Chesney. I really love this one. It's right in the middle, a little bit of a pace and great for some spins!





4. Shut Up and Dance- Aaron Watson. Kind of cliche but it really is fun to dance to!





I am not the best dancer, but with the right song and the right partner it can be a lot of fun.
Hope you join us, looking forward to seeing picks!
---
You are next...
Click here to enter
This list will close in 3 days, 16 hrs, 0 min (9/22/2013 11:59 PM North America - Central Standard Time)